I continue to share the meaning of research for non-science students. Zaki was a summer medical student in 2015.
"I am a final year Malaysian medical student studying at RCSI. I had the opportunity to join RCSI Research Summer School (RSS) by assisting in research with Cancer Genetics, Molecular and Cellular Therapeutics Department of RCSI. My mentor was Dr Olga Piskareva. My research project investigated the role of chromogranin A as a biomarker in drug-resistant neuroblastoma by analysing its expression in different neuroblastoma samples of murine models.
Frankly speaking, I had zero experience in clinical research (apart from basic science project I did at high school) before the placement started. The reading materials that Dr Piskareva handed to me felt like an alien language that had to be deciphered, let alone doing experiment with western blotting and ELISA. I remembered my first day at the lab, staring enthusiastically at every apparatus and machines but not knowing how to run them.
Fortunately, Dr Piskareva and other lab buddies were very experienced and helpful enough with my insufficiency. Their  perseverance and  willingness to share knowledge and tip built my confidence and understanding to finish my research project. I never had any difficulty to discuss and ask for help any time I needed it from them in the lab. They were also very warm and friendly not just inside the lab but also outside of the lab.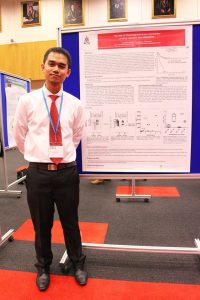 I felt like we were one big multinational family in one small lab. Imagine researchers coming from Russia, Ireland, Italy, Netherlands and myself  from Malaysia working hand-in-hand, together. Over time, we bonded very close especially with our weekly breakfast getaway at Gerry's and my friend Mei Rin and I even prepared our Malaysian cuisine for everyone in the lab in our last days. Even though most of my friends went home for the summer break, never did I felt lonely during my time in the lab. I am very grateful to have them in the lab and to call them my 'keluarga' (means family in Malay language).
The 8 weeks RSS program went very swiftly and fast with weekly mandatory skills workshops and Discovery Lecture Series. We also joined RSS book club discussing a very interesting read "The Emperor of all Maladies: A Biography of cancer" by Pulitzer Prize winner Siddhartha Mukherjee.
After the research, I had the opportunity to do poster presentation at RCSI Research Day 2016 and  International Conference for Healthcare and Medical Students (ICHAMS) 2016 at RCSI. These were great platforms for me to share my findings with other researchers. Above all, these were made possible with the help of Dr Piskareva and my lab buddies in preparing the poster and full report of the research. Additionally, the findings also provided me with extra information about neuroblastoma in line with my medicine study in paediatrics.
I would cherish every moment in the lab and indeed it was a very priceless experience. I would very much do it all over again in the lab if I had the chance because of the craving for knowledge and warmth of the lab buddies.
My presentation at ICHAMS can be found here."
Ahmad Zaki Asraf