While completing my Master's degree at Tulane University in New Orleans, Louisiana, I found the top-notch post-grad comfort food I've taken with me ever since. After a day of work, the last thing I want to do is come home and cook an entire meal. Luckily, red beans and rice can be adapted to a slow cooker. Allowing me to throw all my ingredients in and come home to an amazing-smelling apartment with the most satisfying warm bowl waiting for me.
There's something to the name "The Big Easy" that describes New Orleans because the people and the food take life a bit slower and enjoy every savoury bit together. My favourite memory in New Orleans is when my friends and I prepped a massive stock of red beans and rice for the week of Mardi Gras. This is an entire week of festivities and parade floats where the city quite literally shuts down since everyone participates. It was so comforting every night (or early morning) to come back from the parades and dish out the prepped meal that would fill you up, stick to your bones, and help you fall sound asleep with more than enough energy for the next days of parades.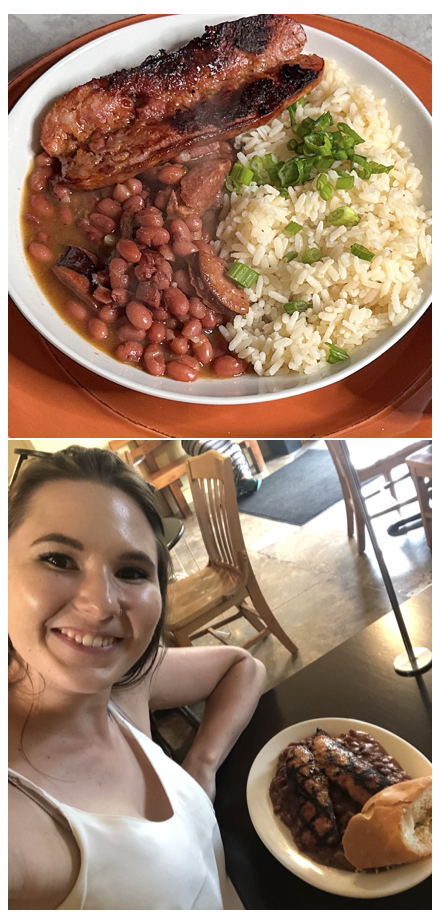 Red beans and rice is a Cajun dish with Haitian influence and contains the "holy trinity" – bell pepper, onion, and celery. You can find this vegetable blend in the base of almost every Cajun meal, including etouffee, jambalaya, and gumbo. Red beans and rice are traditionally made with a stovetop pot set on a low boil all day. However, the ease of a slow cooker is made with the PhD student in mind as it also keeps well during the week. The most important piece is to get red beans and soak them for about 12 hours before cooking them. This will make the beans more digestible as well as more hearty. Andouille is a Cajun spiced sausage that might be at a speciality butcher shop. Another crucial ingredient, Slap Ya Mama (yes, you read that right), is only available in the U.S. Slap Ya Mama seasoning has its name because "every time a mama uses it, she receives a loving slap on the back and a kiss on the cheek for another great dish". There are so many great memories I have from my time in New Orleans and I'm happy to share my favorite meal. I hope you are able to replicate this dish and taste the Southern Comfort that is very true for New Orleans.
Laissez les bons temps rouler!
Recipe:
Serves 6, Cook time is 4 –8 hours
450 grams of dried red kidney beans (New Orleans Camelia brand recommended)
450 grams Andouille sausage (or smoked), sliced ½ inch
4 tablespoons olive oil
1 yellow onion, diced
4 ribs celery, diced
1 green bell pepper, chopped
4 cloves garlic
1 bunch green onions, chopped and divided
3 cups chicken broth
3 cups water
1 tablespoon Slap Ya Mama seasoning
1 teaspoon black pepper
1 teaspoon dried thyme
1 teaspoon dried oregano
3 bay leaves
Handful of fresh parsley, chopped
For serving:
Cooked long-grain white rice
Hot sauce
Instructions:
Rinse beans and soak.
Brown sausages in oil on both sides. Set aside.
In the same pan, add garlic and onion, sauté for 2-3 minutes until transparent. Then add the bell pepper, celery, and half of the green onions. Sauté for 5 minutes.
To the slow cooker, add your cooked vegetables. Then add the red beans, black pepper, Slap Ya Mama, dried thyme, oregano, and bay leaves.
Add the water and chicken broth.
Set the slow cooker to high setting for 4 hours or low for 8 hours.
When beans are ready, take out 1 ½ cups to mash and put back in pot.
Remove the bay leaves and add the sausage back in. Cook until sausage is hot.
Serve over a bowl of hot white rice with hot sauce, green onions, and parsley for garnish.
Notes:
In New Orleans, they also add a split-faced grilled sausage to the top.
This can be adapted to an Instant Pot (Pressure Cooker) as well. Just set the pressure to high for 60 minutes with a 15-minute natural release.
If the beans seem too thick, add more water.
This is a great dish that can be stored for a week or frozen for two months.
Enjoy!!!
Written by Alysia Scott