Coming to live and work for a short period ignites opposite feelings. Should I see all the places recommended by Tripadvisor or do it at my pace as it happens? What if I miss something worthy? Perhaps, your own intuition balances somehow both.
I have discovered and loved two buildings in Baltimore. One is the building of Barnes & Noble bookstore in Inner Harbour and the other is Mount Vernon Place Church. Both have a great history behind and give a very warm feeling when you are inside.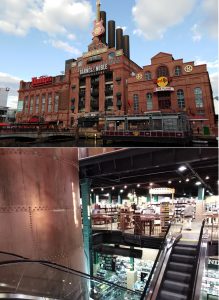 Barnes & Noble bookstore is located in the former Power Plant. The features are easily spotted. From outside, the building looks like a Plant for modern social activities. Ugly slightly, isn't it? Though, it is a different feeling when you enter the bookstore.  The Plant scaffolds, chimneys and pipes are nicely crafted into a warm welcoming environment. Even lights are dimmed as back then. Rambling through the bookshelves and feeling the magic of the place and unread stories on them. You can pick up a book, sit where you are and enjoy the reading. Maybe it is the feeling of my childhood full of books and hours of reading?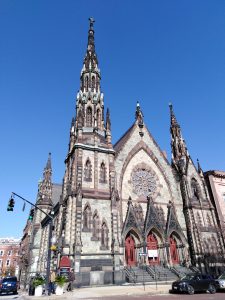 Mount Vernon Place Church is next to the Washington Monument and recalls old Catholic Cathedrals in a Victorian Gothic Style. Built in 1872, the Church is actually the United Methodist Church from the very beginning. It is beautiful inside as well as outside. The stained glass and carvings have Nature themes. A big rose window in the rear of the church was inspired by the one in Notre Dame. It has an interesting history which you can read here. I discovered this place by chance and am glad that this chance came from my host family. I saw the interior not only the Church but also Asbury House. The mansion was a home to the first bishop of the Methodist Church in America – Francis Asbury (1745-1816). Have a look at the pictures, the furniture is well preserved, the staircase is similar to the one you can see in Slane Castle. Its light design makes it looks flying. Indeed, not everyone could use it at that times. Servants had a plain version at the back of the house, so none could have seen them moving in and out. Lots of blue and carved wood in the rooms. Incredibly beautiful.