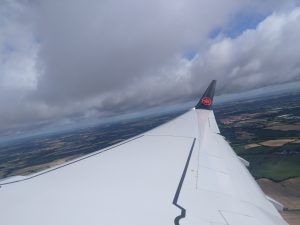 Air Canada was my first bridge to connect me and Baltimore. A new luxury plane with great service brought me over Atlantic to Montreal in 7 hours. Watched many films and TV movies starting with ' Battle of the Sexes' and finishing with re-running some episodes of 'Young Sheldon'. Food was excellent, fast service, great taste. The US Customs met me with two state flags flanking a copy of the Liberty statue at the Canadian Airport, so had no need to do anything at the final destination. My 2nd leg was way shorter – just 1.30hrs!
At BWI a lovely American family picked me and my bag up and brought to their sister's house – my American home for the next 4 months. It is promised to be a true cultural experience. How I found them? It is a story for a separate post to follow.
My American house is in Baltimore outskirts and in 30 min drive from door to door. My first drive to work was a break of all statistical predictions about tyre's punctures. One of the tyres went flat almost on the half-way in probably not a very safe neighbourhood. With no cell phone, no roaming and no a spare 'donut'!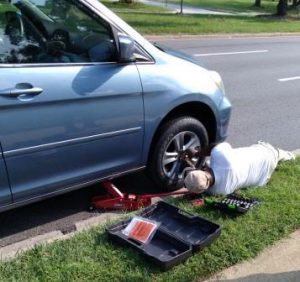 What happened next? 'Emergency lights'-ON, pulling my hand out to stop anyone with a cell phone. After a couple of dozens passing by cars, one pulled down, a nice couple of doctors offered me their help. Phoned to my host family and explained the situation. "Stay in the car with locked doors, we are on the way". While I was waiting for them a nice man from the Afro-American neighborhood tried to help me out. "No, no… thank you… I am fine… Help is on the way…" in a sort of fear I replied.
Next, both I and Rod  (the head of the family) were looking for a spare 'donut' and tools to lift up the car. Nothing. The same nice man came again offering his help. We did not resist. He pulled his brand new shiny Lincoln Continental and brought all you can dream of in my situation. A jack to lift the car, an electric screwdriver to get the tyre off… His name is Melvin.  I and Rod run into the nearest garage to fix the tyre, while Melvin was looking after my car.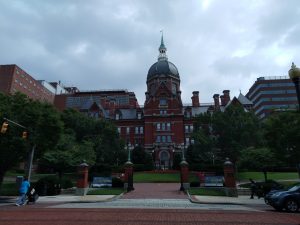 Forty-five minutes later, I continued my journey and arrived 2 hours later than planned. Rush to hunt the ID and car parking. A long queue of new commenced stuff needed exactly the same and disappeared in 25 min. Interestingly, I got the spot in 5 min for my use during the next 4 months as all the rest from the queue. Imagine, to get something like this in Dublin Centre area. Now, my car is parked in 5 min walk from the building I work in. A nice end of the first day!