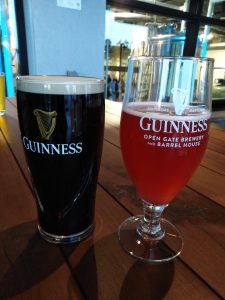 What is a must-see in Ireland? Right: visit Guinness brewery at St. James's Gate and have a pint of right Guinness. It is one of the most recognised and famous beer brands. Rumours say Dublin is the only place where Guinness tastes Guinness.  Traditions, traditions and traditions. Though the one we like most Guinness Draught is a relatively new addition – it was introduced almost 200 years after the brewery establishment in 1759 by Arthur Guinness.
So, what if you like tastes 'outside the box'? Then Guinness brewery in Baltimore is for you. Respecting the Father, they do completely different stuff. Imagine, 16 different tastes, including the one we know! You can have a guided tour of the brewery, hear the great story and do a beer tasting. Have you tried one? Not, the one in the pub or with the friends at BBQ. It is a special way to feel the bouquet of flavours and taste the difference.  There is a difference between the beer drunk straight from the bottle and from the glass. Because you can smell it as simple as that.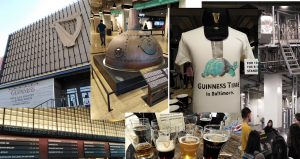 During our guided tour, we rambled inside the experimental brewery, learn the basics of beer production,  tasted 4 types of beer: Guinness Blonde, Oatmeal Pale Ale, Guinness Draught and Guinness Milk Stout. Three were absolutely new for me. I liked Oatmeal Pale Ale, found Milk Stout a bit dessert style, Blonde – too citrusy. Do not forget, another 12 you can taste at the bar in a special set!  However, to enjoy the most you have to bring your friends. All is much better with the right company!