Ok. This Monday is Labour Day – a public holiday celebrated on the 1st Monday in September in the US. According to the US Department of Labor, this holiday marks "a creation of the Labor movement and is dedicated to the social and economic achievements of American workers".   In contrast in Europe and Russia, it is celebrated on May 1st and known as May Day or International Workers' Day and may or may not be a public holiday.
It is also the unofficial end of summer when many people arrange family gatherings or holidays. So, did our lab. We were all invited to our boss' house to have a BBQ and chit-chat. As you may expect almost everyone in the lab has a multicultural background which is very proud of. You are in America, babe! I am not an exception.  A proud Irish-Russian.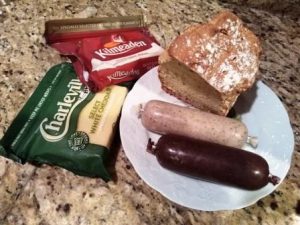 Everyone took advantage of and benefited from that mix. We had Mexican, Argentinian, French, Irish, Jewish, Ethiopian and American Indiana, Idaho, Florida, Maryland bites. Juicy steaks (raw, medium and well done) and burgers grilled by the host Andy were delicious. Have to admit that meat was tastier than I used to buy in Ireland. Should probably look for a new butcher when I come back!
What did surprise me the most?  I have been thinking about it on the way home… None of 15 guests did check their mobile or take a pic of food/selfie during that time! Though everyone had this thing in the pocket. We were chatting and laughing. Maybe it is just that people… Fantastic company and a great day out.