This is how my journey began. On Tuesday, I received an invite from the Children's Medical Research Foundation to attend the Annual Summer Gala Dinner at the Water Club in Manhattan on Thursday the same week. Are two days enough to plan your trip? Perhaps it depends on many things, I had no reservations. The only one uncertainty was car parking logistics.
Those, who are familiar with Baltimore history and current life, know that your car is your Castle. After the Internet search and chats with my host family, the plan was to get a bus to NY which provides a designated car park.
Three hours on the bus flew in a flash. Wide roads with trees on both sides did remind me of some motorways in Russia. Gigantic tolls – almost 12 lanes in both directions.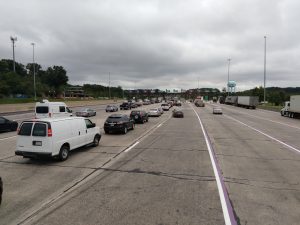 An impressive tunnel under the Hudson River connects the mainland with Manhatten.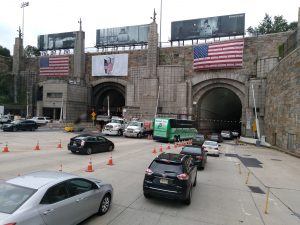 One can see a borderline dividing the tunnel into New Jersey and New York parts on about halfway.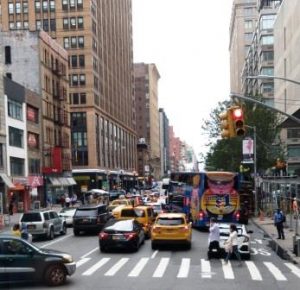 What was my first impression of NY once I got off the bus? Many snapshots instantly jumped in linking with Hollywood movies that pictured NY. Mostly from 'Sex and the City'. A traffic jam here and there. Crazy Taxi and car drivers. Brainless pedestrians. Everyone on the run. Madness. I did enjoy it as a tourist. Would I cope with it on everyday bases? A very big question!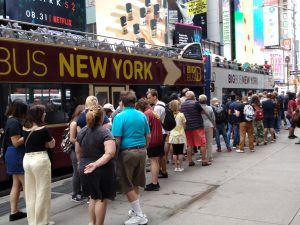 Unfortunately, thanks to the hurricane  Florence, not much sightseeing was on offer. All tall buildings were hidden with clouds. Tourists were queuing for hop-on-off.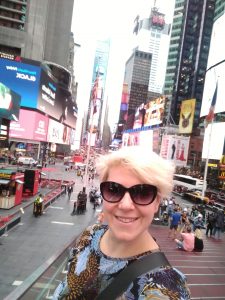 I had 2 hours before the bus to Baltimore. My choice was Times Square. A classical picture – huge screens are talking to you offering pleasure and entertainment.  Come in, relax and enjoy!
Strolling around Cafe shops, theaters, food vans. Looking at tourists and locals. Feeling and absorbing… Short, but sweet.
Christmas never ends at Times Square!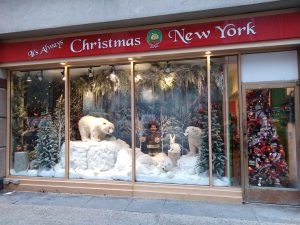 Many things to do next time…