7th OLCHC RESEARCH & AUDIT DAY Programme can be downloaded here Final Programme – OLCHC 2017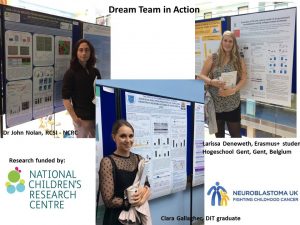 The research is a long-term investment. It is always built up on the work of the predecessors. Keep research running is crucial to make the dreams come true. Dreams for better treatment options and quality of life.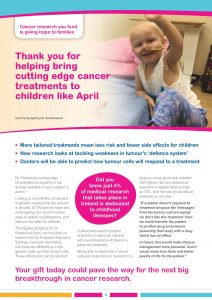 Thank you to everyone involved in raising funds for CMRF!
CMRF Spring Newsletter can be found here – CMRF-Spring Newsletter Final 15.05.17
It is fantastic to see so knowledgeable and enthusiastic young researchers in my research group. This year, the team is multinational with the Irish students mixing with Belgian and Malaysian. All together they are cracking the code of neuroblastoma microenvironment and tumour cells communication through understanding main differences between conventional cancer cell models and tumours.
The big research plan of the entire team consists of more smaller and focused projects to be completed within 10-12 weeks. All projects are unrestricted, they are driven by the intellectual curiosity of these students. This way is full of ups and downs, frustrations and encouragements when techniques do not work or reagents do not come in as expected. Some cancer concepts can also work differently in the given settings. Simple questions are bringing more challenges than expected.  But at the end of the road is the best reward – contribution to the conceptual advancement of neuroblastoma microenvironment.