Throughout history, women in science have faced the hard challenge of navigating societal biases and limited opportunities in their pursuit of scientific discovery. Many of them were unjustly denied access to education and research positions just because of their gender, as it was thought that women were not capable of rigorous scientific work.
In the present, women in science (and in many other fields) still need to face many obstacles and challenges:
Gender Bias: Women in science still encounter bias and stereotypes that can hinder their progress. They may face scepticism about their abilities and qualifications, leading to a lack of recognition for their work. Gender bias can also manifest in subtle ways, affecting opportunities for advancement and funding.
Unequal Pay: Gender pay gaps persist in many scientific fields, with women often earning less than their male counterparts for similar work and qualifications.
Limited Representation in Leadership Roles: Women remain underrepresented in leadership roles within academia, research institutions, and industry.
Work-Life Balance: Balancing a career in science with family responsibilities can be particularly challenging for women. The demands of research, long working hours, and frequent travel can conflict with traditional gender roles and family expectations.
A woman and scientist who has certainly not let herself be stopped by all these adversities is Dr. Nina Marie Tandon. She has been a key player in the field of biomedical engineering, tissue engineering, and regenerative medicine. Her work focuses on developing innovative methods to grow artificial organs and tissues, using patient's own cells to engineer tissues and organs. One of the cornerstones of Tandon's work is the use of induced pluripotent stem cells. iPCs were developed in Japan pretty recently and are derived from skin or blood cells that have been reprogrammed back into an embryonic-like pluripotent state. This enables the development of an unlimited source of any type of human cell needed for therapeutic purposes.
Tandon and her team employ cutting-edge bioreactors and 3D printing techniques to construct tissues: bioreactors provide a controlled environment for cells to grow and develop into specific tissue types, while 3D printing technology is used to create complex structures that mimic the architecture of natural organs.
In 2013, Tandon co-founded EpiBone, a biotech company that specializes in growing personalized bone grafts. EpiBone employs patient-specific stem cells to create skeletal structures based on individual DNA profiles, reducing the risk of rejection, streamlining surgical procedures, and potentially expediting patient recovery. They use a three-step process that begins with obtaining bone measurements and stem cells from abdominal fat via a CT scan, followed by creating a bone model in a bioreactor to stimulate growth. Finally, the patient's own stem cells are added to the newly developed bone in the bioreactor, resulting in a fully functional replica bone ready for use.  Nina Tandon is also known for her engaging and informative TED Talks, where she discusses the future of medicine, tissue engineering, and the impact of regenerative medicine on healthcare.
I really admire Nina's work, which I find genuinely fascinating. I believe her passion and determination come through in her TED talks, where she effectively manages to communicate complex scientific concepts and the potential of regenerative medicine to a broad audience.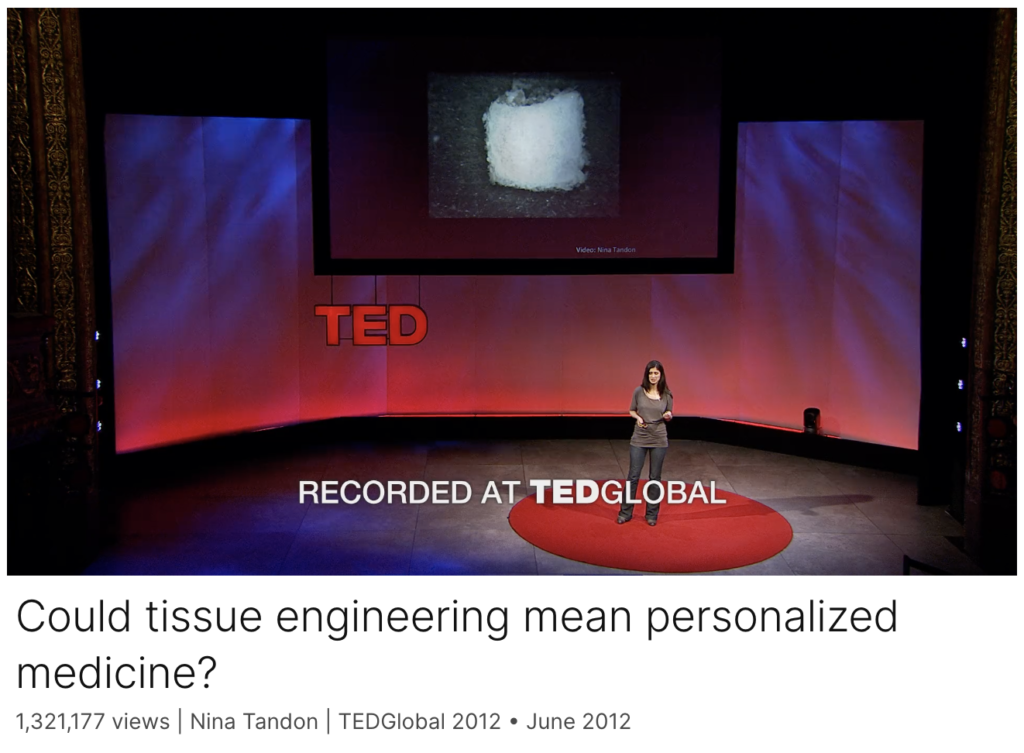 Click on the image to listen to one of her TED talks. Enjoy it 🙂
Written by Federico Cottone