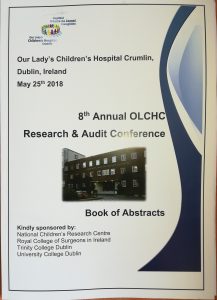 This was our 2nd time attending the OLCHC Research & Audit Day on May 25th, 2018. The conference provides a great forum for paediatric clinicians to share and update knowledge across different specialties through talks and poster presentations. It is insightful for basic biomedical researchers like us to see other perspectives.
I was delighted to know that two our studies were shortlisted. It is a rewarding feeling to see your Dream Team doing very well. One was the project of the Erasmus+ student Hanne Pappaert and the other was the project of NCRC funded Postdoc John Nolan. Hanne explored our 3D tissue-engineered model of neuroblastoma using collagen-based scaffolds with distinct mechanical properties. These new scaffolds were designed and manufactured by our collaborator Dr Cian O'Leary from Pharmacy Department and Tissue Engineering and Research Group (TERG) headed by Prof Fergal O'Brien. Hanne grew 5 neuroblastoma cell lines on the 3 scaffolds: hard like a rock, soft and fluffy like a cotton wool and a jelly-like. All cells liked the jelly-like environment. This environment is similar to bone marrow – the most common site of neuroblastoma metastasis. We were excited to see the difference as it means we are one step closer to reconstruct this type of tumour spread.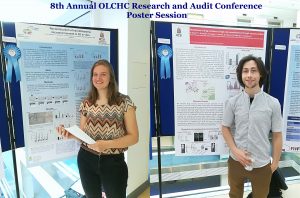 John has expanded our exploration of our 3D neuroblastoma model by examining the content of exosomes – little parcels sent by cancer cells in 3D and as tumours grown in mice.  We were thrilled to see a high similarity in the exosomal content. This finding additionally proved the great applicability of our 3D model as a tool to study neuroblastoma.