For most neuroblastoma cases a tissue biopsy, which means remove a piece of the tumour and analyse under a microscope, is performed to confirm the diagnosis, allow the risk stratification (low, intermediate or high-risk cancer) and determine treatment. However, it is not always possible to perform a biopsy. In these cases, other tests are available such as ultrasound, x-ray and urine test1. Although these tests help the diagnostic, they are much less informative to determine the risk group and to guide treatment.
Cancer is a genetic disease and as such several genetic alterations are present in the DNA and can be useful to determine a diagnostic and prognostic of the disease. These alterations can also be useful to monitor treatment effects. But, how we can examine the DNA without using a piece of the tumour?
The answer for that relies on our blood. Cancer patients have cancer cells circulating in their blood and these cells release what we call cell-free tumour DNA. The level of cell-free tumour DNA in the blood of a healthy individual is low while this is increased in cancer patients. The detection of cell-free tumour DNA with specific alterations may help to not only detect the disease but also determine if the tumour cells are changing after treatment.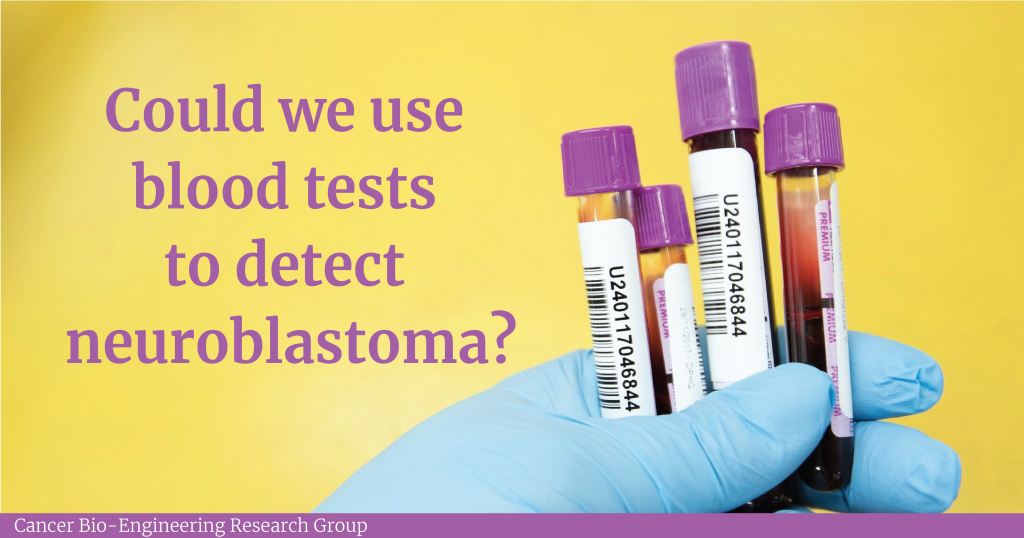 Recently, a trial for a blood test that can detect 50 different types of cancer was launched in the UK2. The test called the Galleri test look for cell-free tumour DNA in the blood using modern genetic sequencing technology. It spots the DNA that has changes common in specific cancers but not seen in healthy cells.
One of the main questions of this trial is if the test can find early stages of cancers. Although neuroblastoma is cancer that could benefit from this test, unfortunately, it is not one of the cancer types detected. However, the presence of cell-free tumour DNA was already detected in neuroblastoma patients' blood3. Moreover, several alterations in the DNA of neuroblastoma patients have already been reported to have predictive value for disease progression and treatment monitoring. These alterations include the increase in the number of specific genes, genes breakdown or increased activity of certain genes. Their presence may indicate poor outcomes and early detection could guide to specific treatment options.
The big challenge is to have a non-invasive diagnostic method, such as blood tests, that are sensitive enough to detect the early stages of the disease. Specifically for neuroblastoma, comprehensive analysis in clinical trials regarding cell-free DNA levels and their specific changes over time would help to advance the development of liquid biopsies, such as blood tests, for this type of tumour.
Written by Luiza Erthal
References
1. Tests for neuroblastoma, Cancer Research UK. February 25, 2021
2. The Galleri multi-cancer blood test: What you need to know, Harry Jenkins, Cancer Research UK. September 13, 2021.
3. Wei, M., Ye, M., Dong, K. & Dong, R. Circulating tumor DNA in neuroblastoma. Pediatr. Blood Cancer 67, (2020).