A typical day for me is difficult to describe because there are many facets to a PhD in the Cancer Bioengineering research group. Some days I spend in the lab sectioning, staining or looking at tumour samples under the microscope. Others I stay at home, read papers and try to figure out how they can help me to achieve my research goals. Some days I take part in the courses and workshops offered in the scope of a structural PhD. Then there are times when I sit here writing up for you guys what it is that I do those other days. The academic environment also provides lots of other opportunities to apply yourself and broaden your horizons or pursue what you enjoy. I, for example, have the chance to partake in weekly dissections for medical teaching which helps to keep my anatomical knowledge fresh and is an always welcome change of scenery (and smell) when I am stuck on other things. Furthermore, I get to see the other side of conferences and what is involved in their planning, because I am part of the local organising committee for the European Federation for Experimental Morphology Symposium 2022.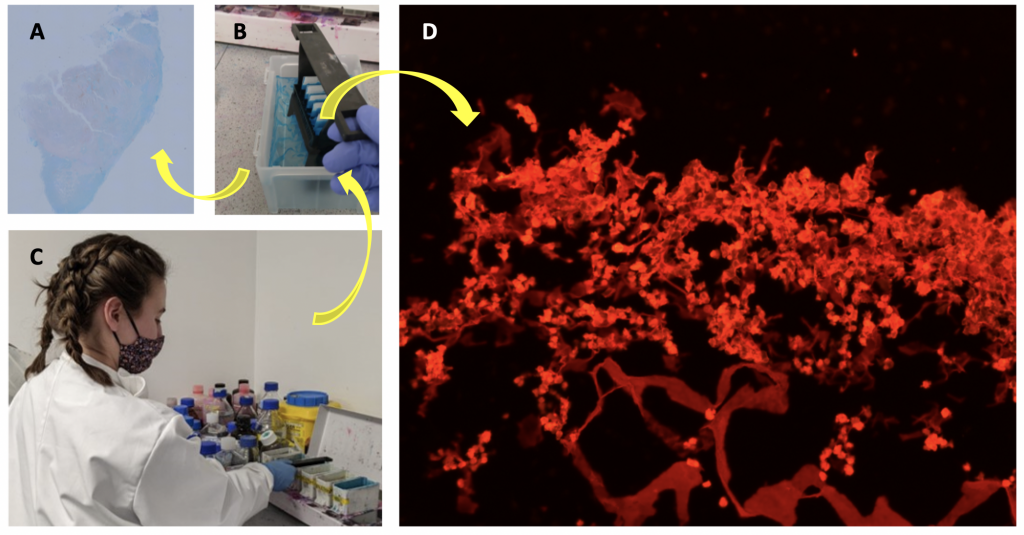 Currently, not yet half a year into my PhD, a lot of my time is spent planning. That's planning which methods to use, which products to order and which experiments, and analyses would result in the most coherent and rounded off story being told by the summation of my research. I also spend a lot of time optimising the methods I will use to assure reproducibility and avoid issues during the analysis later on. For example, the whole tumour sample stained with Alcian blue you can see in Figure 1A clearly shows discernible blue and red regions. However, I have spent about 2 months now trying to get to a point of producing this same outcome reliably rather than having samples show up entirely blue or very only faintly stained. Picrosirius red, the solution I used to stain the sample in Figure 1D stains collagen. But there are many different stains for collagen. After researching most if not all of them I chose this one because it can be viewed with different types of microscopies providing slightly different information. Another step of planning includes how many pictures of which magnification will be required, one image of a whole section for orientation such as in Figure 1A and then more zoomed-in images to investigate the structure of collagen such as in Figure 1D.
Between course work and planning and optimising different aspects of my project, my PhD provides me with plenty of opportunities to focus on something else whenever I get stuck to later return with a fresh set of eyes.
Written by Ronja Struck, a 1st Yr PhD student funded by the IRC-CFNCRF