Neuroblastoma relapse is one of the greatest challenges to complete cure for children with high-risk disease. At least 40% of high-risk neuroblastoma patients will experience cancer relapse 4 years after intense treatment, which includes a combination of chemotherapy, surgery, irradiation and the self-transplantation of stem cells (consolidation therapy).
To overcome this problem improved maintenance therapy is needed. These are therapies administered to patients after the end of the initial treatment to prevent tumour relapse. Frequently, maintenance therapy for neuroblastoma includes immunotherapies such as antibodies against GD-2 and cytokines and 13-cis-retinoic acid. Although these therapies have some positive effects, the rate of relapse is still high. Therefore, other options to prevent relapse are needed.
Recently, a phase II clinical trial evaluated the effect of Difluoromethylornithine (DFMO) on event-free survival (EFS) and overall survival (OS) of high-risk neuroblastoma patients1. Event-free survival means the length of time that the patient remains free of cancer after the end of treatment, while overall survival means the length of time that the patient is alive after the diagnosis or the start of treatment. The measurement of event-free survival and overall survival provides a good indication of the treatment effect.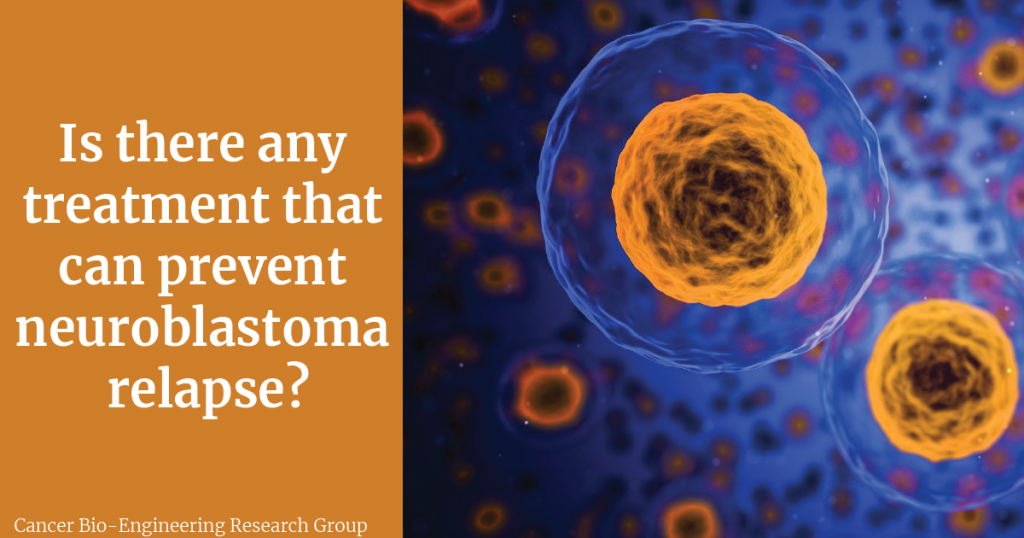 In this clinical trial report the therapy efficacy on 81 patients that received immunotherapy treatment with dinutuximab and started DFMO maintenance therapy at least 120 days after completion of treatment were compared to the efficacy (based on medical records) from a group of 76 patients that got the same treatment but without the maintenance with DFMO.
DFMO inhibit the ornithine decarboxylase pathway, which is related to cell growth and decreased cell death, thus preventing cells to become cancerous and tumour progression. The results demonstrated that maintenance therapy with DFMO provided 85% of 5-year event-free survival compared to 65% for no-DFMO maintenance therapy, and 95% 5-year OS compared to 81% no-DFMO therapy2.
In conclusion, this study results suggest a benefit provided by the DFMO therapy in preventing neuroblastoma relapse. The researchers suggest that early therapy with DFMO may further improve these results. Therefore, more clinical trials evaluating this possibility are being conducted3,4.
Written by Luiza Erthal
References
1. SaulnierSholler, G. A Phase II Preventative Trial of DFMO (Eflornithine HCl) as a Single Agent in Patients With High Risk Neuroblastoma in Remission. https://clinicaltrials.gov/ct2/show/NCT02395666 (2020).
2. Lewis, E. C. et al. A subset analysis of a phase II trial evaluating the use of DFMO as maintenance therapy for high‐risk neuroblastoma. Int. J. Cancer 147, 3152–3159 (2020).
3. SaulnierSholler, G. Phase II Trial of Eflornithine (DFMO) and Etoposide for Relapsed/Refractory Neuroblastoma. https://clinicaltrials.gov/ct2/show/NCT04301843 (2021).
4. SaulnierSholler, G. NMTT- Neuroblastoma Maintenance Therapy Trial Using Difluoromethylornithine (DFMO). https://clinicaltrials.gov/ct2/show/NCT02679144 (2021).