Despite our last blog post celebrating the regained opportunity to meet with other researchers in person and all the benefits that come with it I just had the pleasure of presenting at the first European Federation for Experimental Morphology (EFEM) Student Symposium online.
While it would have been easy for me to attend in person, as the event was hosted and organised here at RCSI, not many others would have had it quite so easy. As the name suggests, researchers from all across Europe attended. Every EFEM associated anatomical society across Europe and RCSI, as the host institution, had the opportunity to select two members to present. I was honoured to be chosen to represent RCSI. Overall, 15 different countries were represented in the student talks which made for a diverse mix that was particularly nice for the bit of organized fun at the end of the first day which encouraged networking.
Especially, because having only begun my PhD this past year I felt the category Preliminary Results and Outlook aimed at Undergrads, Masters and early-stage PhD students perfectly suited the stage of my project. This was also a brilliant way to see what other students at my level were doing in the field of anatomical research all across Europe. Having this chance to see research in progress was refreshing and uplifting contrasted with the usually more rounded later stage presentations. Having studied anatomy in my undergraduate degree I was also delighted to simply engage with more conventional anatomical research than I currently do myself.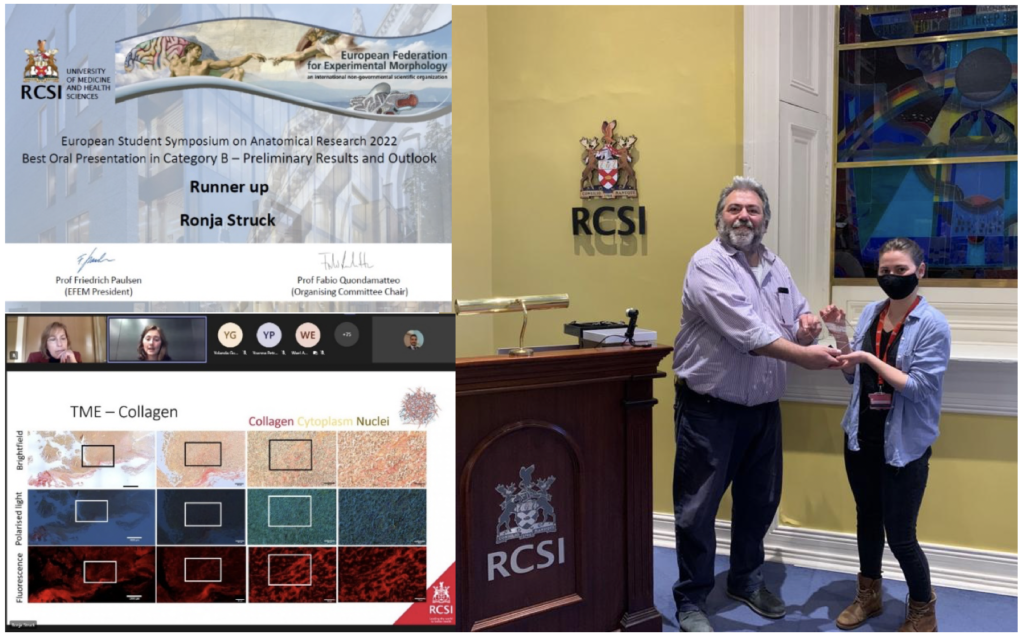 A wonderful opportunity to gain insights into, for example, the implicit knowledge of academia was the career development part of the conference. Talks about academia, industry and publishing offered a chance to get an inside view of those career paths at different positions within them. Especially the typical day in a research journal's editor provided a new perspective on what is important when writing papers and will have lasting benefits for me and my scientific writing.
But by far the reason why I'll remember this conference for the longest time is that being awarded runner up in the category Preliminary Results and Outlook reassured me that I am on the right track and that there is purpose in what I do. Despite the online format of the conference, I had the honour of receiving my prize in person, because Prof. Fabio Quondamatteo, the organiser of the event is based at RCSI.
Overall, the two days were an important step in consolidating my faith in my work and the career path that I have chosen.
Written by Ronja Struck, the IRC-CFNCRF funded PhD student