This blog takes you to the exciting scene of my MSc graduation ceremony at the University of Siena, Italy, completed with the prestigious laurel wreath.
I graduated during COVID-19, but there was no graduation ceremony at that time. Years later, I was invited to attend an "Alumni conference" by the University of Siena, but the plan was still unclear. When we arrived in Siena, we came across that there was a convocation ceremony tomorrow. Hold on! What? Yes, after years of waiting, it was finally taking place on June 7, 2023.
The next morning, all the former students from 48 countries came together in the University's Grand Piazza del Duomo, where all of the Professors and sponsors, robed in their academic attire, delivered speeches that inspired and reminded us of the responsibility that comes with education, which ended in the most captivating moment of adorning us with laurel wreaths stating that "Rating your thesis attributes by authority granted to me by director I confer you the Masters Diploma in Vaccinology and Drug Development, Congratulations!". The weight of this academic success was alleviated by our family members' joyful yells and applause.
Walking out of the ceremony, wreathed in laurel, walking through Siena's streets with classmates I've never met in person, hearing these words "Complimenti! Felicitazioni!" from commoners, I came back to Dublin with an ethereal sensation of pride and belonging that will remain with me for life. Altogether, It was a once-in-a-lifetime experience for me.
Here are some glimpses of the ceremony: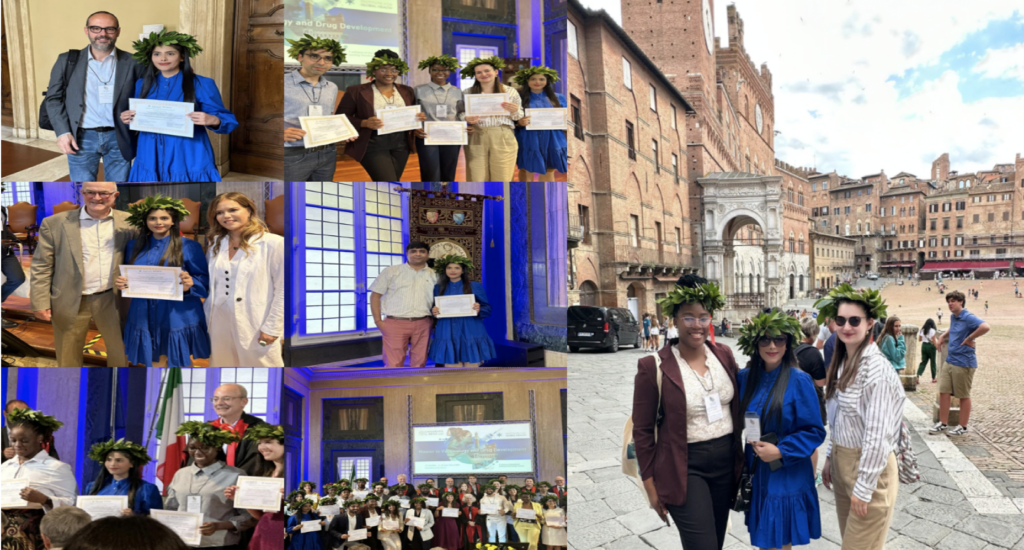 P.S.: But this was not the end. I embarked on a wet-lab MSc in RCSI Dublin. As I am typing these lines, my MSc by Research work has just been submitted for examination, marking another hallmark and opening a new chapter in my life, "the PhD journey". The new chapter – the new challenges and opportunities!
Written by Rabia Saleem