Understanding how tumour cells interact with the other cells in the body is crucial for an effective treatment. Moreover, it can help to identify patterns that are exclusive of tumour cells to be a target in treatment.
The interactions of tumour cells with the surrounding tissue, the microenvironment, affects chemotherapy sensitivity, immune cells recognition and expression of molecules on the cell surface, to only cite a few interferences.
This is particularly crucial in metastatic cells, which are cells that have spread to other parts of the body coming from the primary tumour location. Specifically, for neuroblastoma half of patients with high-risk disease present a metastatic tumour at the diagnosis. In addition, one of the organs that are mostly populated by metastatic neuroblastoma cells is the bone marrow.
A review paper recently published address some important aspects about the interactions between neuroblastoma cells, bone and bone marrow resident cells1. This review argues in favour of understanding these interactions to search for new targets for therapy.
However, neuroblastoma cells proved to be difficult to characterise due to dynamic changes induced by external stimuli. Therefore, neuroblastoma cells change upon exposure to the bone marrow microenvironment.
The authors present some studies showing that neuroblastoma cells infiltrating the bone marrow express receptors for small proteins called chemokines that induce cell adhesion in the bone marrow. On the contrary, the cells did not present on their surface molecules that stimulate the immune system recognition. Therefore, they are naturally invisible to the action of this system.
Moreover, it has been shown that metastatic tumour cells release extracellular vesicles expressing GD2. These vesicles have an important role in cell-cell communication and the GD2 is a marker exclusive of neuroblastoma cells. Thus, it facilitates the identification of metastatic cells.
These alterations on neuroblastoma cells surface after they interact with bone marrow cells may facilitate the invasion and spread of the tumour. Thus, looking closely to that may help to develop more effective treatments for neuroblastoma.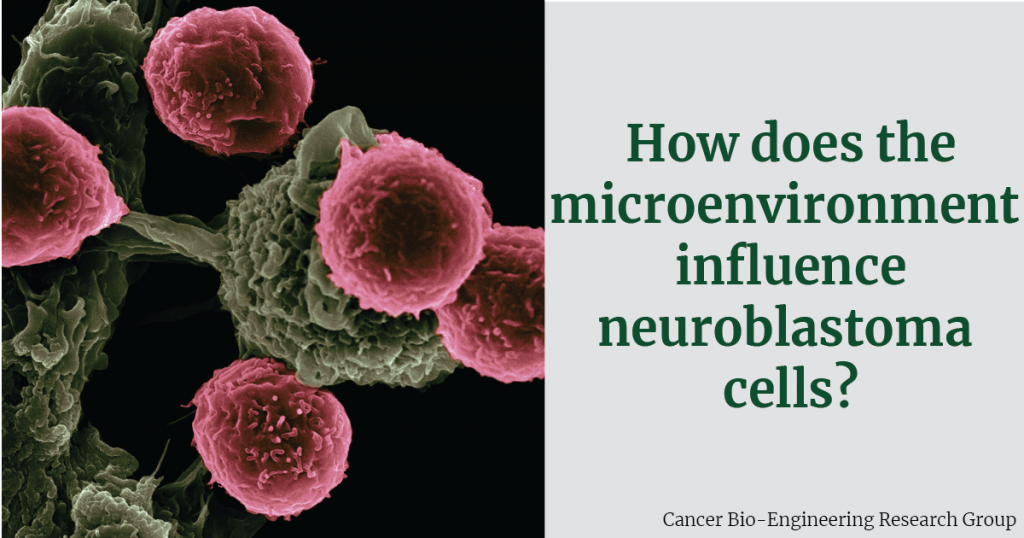 At the Cancer Bioengineering Research Group, many of our projects are related to tumour resistance, cell interaction and the tumour microenvironment. These three aspects are very important to understand neuroblastoma at the tissue level. We study them and expand this research to applied projects aiming at the development of new therapeutic modalities.
For instance, we are currently evaluating the effect of extracellular vesicles from different neuroblastoma cell lines in the induction of proliferation and increased viability. Moreover, we are studying the interaction of neuroblastoma cells with immune cells such as macrophages. Finally, we are also identifying targets to develop an anti-tumour nucleic acid-based vaccine against neuroblastoma.
We go from basic to applied research interconnecting the findings and expanding the understanding of neuroblastoma biology. Ultimately, we aim to improve treatment and quality of life for patients.
Written by Luiza Erthal
References
1. Brignole, C. et al. Bone Marrow Environment in Metastatic Neuroblastoma. Cancers 13, 2467 (2021).