Immunotherapies are treatments that stimulate the patient's immune system to help it to fight cancer. This type of treatment is gaining more attention in neuroblastoma due to the possibility to combine it with other therapies, potentially, generating fewer side effects.
Clinical trials are research protocols performed in patients to evaluate whether a new treatment is safe and effective. This type of research can also compare standard treatments with new treatment options as well as investigate new combinations of drugs. Clinical trials occur in phases comprising phase I (safety), phase 2 (safety and efficacy), phase 3 (safety, efficacy and comparison with standard treatments for the specific disease).
According to a search performed on November 14th, 2021, there are 594 clinical trials for neuroblastoma at clinicaltrials.gov, a clinical trial database from the United States (US). From these, 173 are recruiting or active trials and 15 are related to immunotherapies. Generally, these are initial trials evaluating treatment combinations using chemotherapy, cell transplants and immunotherapy, including antibodies and vaccines.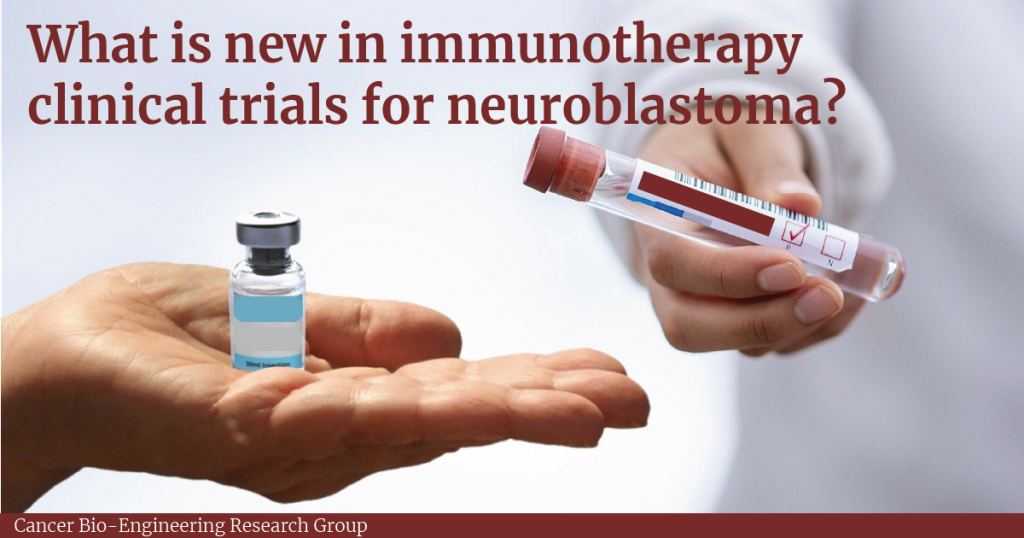 Trials for antibodies
The most explored target for immunotherapy in neuroblastoma is the GD2, a molecule present in the surface of neuroblastoma cells that can be used to combat the tumour. Indeed, antibodies that bind to GD2 called dinutuximab and naxitamab are approved for use in the US to treat neuroblastoma1,2.
A clinical trial in the US and Canada is recruiting patients to evaluate the combination of dinutuximab with another antibody called Magrolimab in patients with neuroblastoma that do not respond to or come back after treatment3. This is an initial trial (Phase 1), which aims to determine the best doses and side effects of this combination.
Racotumomab, an antibody that binds to N-glycolyl GM3, a molecule that is highly expressed in the surface of neuroblastoma cells, is being evaluated in high-risk neuroblastoma5. The study aims to determine the immune response generated by the drug and the related toxicity.
Trials for vaccines
A trial from Dana-Farber Cancer Institute is recruiting patients to study the GVAX Vaccine and its combination with the antibodies, nivolumab and ipilimumab, that stimulates T-cells to attack the cancer 6. The vaccine is produced with neuroblastoma cells from the patient. The study will evaluate the dose and safety of the combination treatment.
Another trial is evaluating the use of a modified neuroblastoma cell vaccine in combination with low doses of chemotherapy (Cytoxan/Cyclophosphamide)7. A vaccination scheme comprising 8 doses of vaccine and cycles of oral chemotherapy is planned and patients will be closely monitored through the vaccination period to evaluate side effects and disease status. This study is ongoing and will follow the patients for 15 years after completing the vaccination scheme.
Trials for cell therapy
A trial evaluating the use of modified T-cells (CART-T-cell) to recognise GD2- neuroblastoma cells in combination with chemotherapies (cyclophosphamide and fludarabine) and an antibody (Pembrolizumab) is ongoing8. The combination is based on previous studies that have demonstrated the longer time presence of CAR T-cell in the blood of patients after intravenous infusion of chemotherapy. Moreover, the antibody will help to stimulate the patient immune system. The trial aims to determine the highest dose possible for the combination treatment generating fewer side effects.
Another Phase I immunotherapy trial for neuroblastoma aims to compare the treatment with dinutuximab and lenalidomide (drugs that support the immune system) and Natural Killer (NK) cells from the patient9. The NK cells can kill cancer cells while the two immunotherapeutic drugs activate the NK cells. This study will determine the safest dose of cells to be used in combination with the drugs.
Conclusion
Considering some of the clinical trials in progress that uses immunotherapy to treat neuroblastoma, we can conclude that this therapy modality holds great promise to advance and potentially serve as a new treatment option to improve neuroblastoma patients' survival and quality of life.
Written by Luiza Erthal
References
1. Drugs Approved for Neuroblastoma – National Cancer Institute. https://www.cancer.gov/about-cancer/treatment/drugs/neuroblastoma (2011).
2. Memorial Sloan Kettering Cancer Center. Expanded Access Use of Naxitamab/GM-CSF Immunotherapy for Consolidation of Complete Remission or Relapsed/Refractory High-Risk Neuroblastoma. https://clinicaltrials.gov/ct2/show/NCT04501757 (2021).
3. National Cancer Institute (NCI). Phase 1 Trial of Hu5F9-G4 (Magrolimab) Combined With Dinutuximab in Children and Young Adults With Relapsed and Refractory Neuroblastoma or Relapsed Osteosarcoma. https://clinicaltrials.gov/ct2/show/NCT04751383 (2021).
4. Memorial Sloan Kettering Cancer Center. Hu3F8/GM-CSF Immunotherapy Plus Isotretinoin for Consolidation of First Remission of Patients With High-Risk Neuroblastoma: A Phase II Study. https://clinicaltrials.gov/ct2/show/NCT03033303 (2020).
5. Laboratorio Elea Phoenix S.A. Open-label, Multicenter, Phase II Immunotherapy Study With Racotumomab in Patients With High-risk Neuroblastoma. https://clinicaltrials.gov/ct2/show/NCT02998983 (2021).
6. Collins, N. B. A Phase 1 Study of Combination Nivolumab and Ipilimumab With Irradiated GM-CSF Secreting Autologous Neuroblastoma Cell Vaccine (GVAX) for Relapsed or Refractory Neuroblastoma. https://clinicaltrials.gov/ct2/show/NCT04239040 (2021).
7. Heczey, A. A Phase I/II Study Using Allogeneic Tumor Cell Vaccination With Oral Metronomic Cytoxan in Patients With High-Risk Neuroblastoma (ATOMIC). https://clinicaltrials.gov/ct2/show/study/NCT01192555 (2021).
8. Heczey, A. Autologous Activated T-Cells Transduced With A 3rd Generation GD-2 Chimeric Antigen Receptor And iCaspase9 Safety Switch Administered To Patients With Relapsed Or Refractory Neuroblastoma (GRAIN). https://clinicaltrials.gov/ct2/show/NCT01822652 (2021).
9. New Approaches to Neuroblastoma Therapy Consortium. A Phase I Dose Escalation Study of Autologous Expanded Natural Killer (NK) Cells for Immunotherapy of Relapsed Refractory Neuroblastoma With Dinutuximab +/- Lenalidomide. https://clinicaltrials.gov/ct2/show/NCT02573896 (2021).