Continuing the fundraising theme, I would like to introduce The Conor Foley Neuroblastoma Cancer Research Foundation. It is founded by the family aiming to raise awareness and funding for neuroblastoma – one of the most aggressive childhood cancer.  This charity is being driven by parents who lost their son to neuroblastoma. They want to fill this gap as well as bring attention to the lack of funding for childhood cancer research.
Their son Conor was diagnosed with neuroblastoma at the age of four. He was a teenager when he relapsed. He had been 10 years cancer-free. After all possible treatments, neuroblastoma took over.
His mom Margaret says:
"We always dealt with Conor's illness privately. There were no Facebook pages tracking Conor's progress. The day we launched the website for Conor's charity was very emotional for me. I feel like he is out there now in the big world now with his charity. He will never get to do the things that most 18-year-olds do. He won't go inter-railing in the summer, he'll never go bungee jumping off some bridge, but I feel that he's part of the world, doing something good for other children and their families. We valued our time with Conor so much, we want to help researchers who will give families, even more time, more options, perhaps even a cure for their children when they get the same awful news that we did. I think he would approve of that."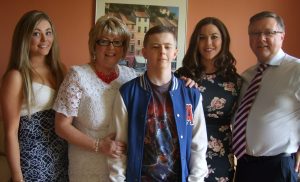 We are continuing Conor's legacy in removing and breaking down medical science barriers, and we have set up this foundation with the ultimate objective of finding a cure for NBL.Our aim is to secure continuous annual funding for NBL research in Ireland. With this funding we want to help develop an NBL research consortium to link with international research groups and collaborations.