When I look back on my journey in 2017, there were many junctions, traffic lights and stops as well as ups and downs. Junctions were to make decisions, while traffic lights and stops – to be patient. Ups and downs were my feelings of satisfaction. The good mix of both kept me to stay human. It is not the number of grants received that matters it is who around you. I have met genuinely curiosity-driven students who made this journey fascinating and very special.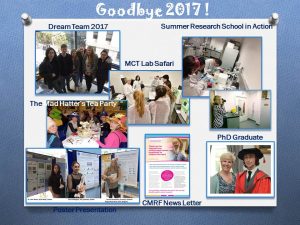 My most memorable Ups  were the successful examination and graduation of my PhD student John Nolan, organisation and chairing the IACR Meeting session: Challenges in Childhood Cancers, the Mad Hatter's Tea Party and the Gala Dinner with the CFNCRF, the launch of my very own research team thanks to the funding by the NCRC and the Neuroblastoma UK, the successful completion of two final year undergraduate and two MSc projects, and welcoming the new PhD student Tom Frawley.
My team is growing and I am looking forward to 2018!
Goodbye 2017 and Hello 2018!