We are the Cancer Bioengineering Group, and September is a very special month for us as it is Childhood Cancer Awareness Month. Childhood cancer is the 2nd leading cause of death in children after accidents. Our group researches childhood cancer neuroblastoma, a cancer of immature nerve cells. Despite intensive multimodal treatment, as many as 1 in 5 children with aggressive neuroblastoma do not respond, and up to 50% of children that do respond experience disease recurrence with many metastatic tumours resistant to many drugs and more aggressive tumour behaviour that all too frequently results in death.
This is what we want to change! We believe that every child deserves a future, and our team of postgraduate researchers led by Dr Olga Piskareva is dedicated to strengthening our knowledge of this disease and identifying new potential ways to tackle it, as well as taking part in fundraising activities so our group and others can continue with this research.
On Tuesday, the 19th of September, we are running a Knit-A-Thon using gold and purple yarn to mark childhood cancer and neuroblastoma, respectively. Our patterns are inspired by Neuroblastoma UK and Mr Google, indeed.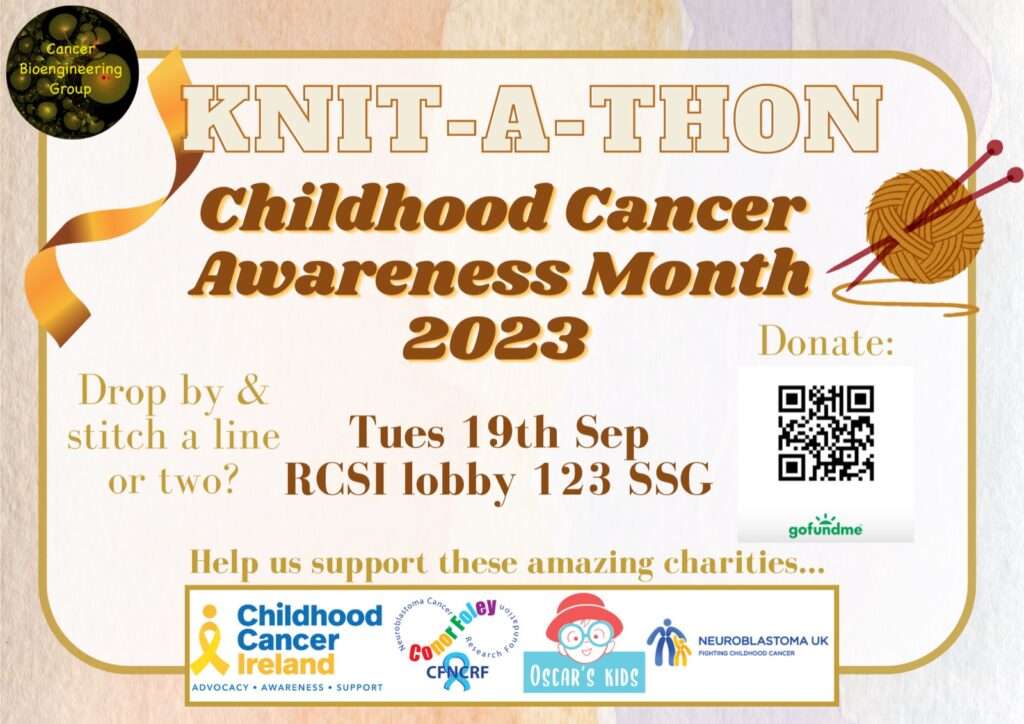 This year, we honour 4 charities that are doing an amazing job of advocating for children with cancer and better funding for research and aftercare. Therefore, the donations we receive will be split equally among The Conor Foley Neuroblastoma Research Foundation (CFNRF), Neuroblastoma UK (NBUK), Oscars Kids and Childhood Cancer Ireland (CCI). If you would like to get involved in the Knit-A-Thon and help us raise vital funds for childhood cancers, come along on the day and make a donation to these wonderful charities.
On the day, RCSI 123 SSG will #GoGold in support of this cause. Please come by to see the RCSI building lit up and share your pictures on social media with the hashtag #ChildhoodCancerAwarenessMonth to raise awareness.
Every year we manage to raise an amazing 1500-2000 euros by organising a new challenge. We are eager to surpass that target this year. All donations no matter how small are appreciated at GoFundMe.