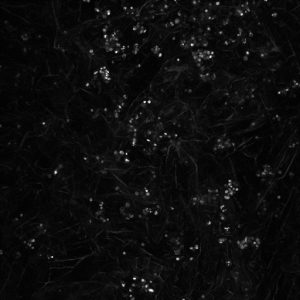 Continue research into 3D neuroblastoma models, we imaged cells growing on collagen based scaffolds using confocal microscopy. This technique is very popular in cell biology providing depth in cell imaging.
Here you can see cells growing on scaffolds: white dots – cells, irregular fibers – collagen containing scaffold.
The results are fascinating! Cell nucleus is in blue (DAPI), cell actin is in red (phalloidin). You will be able also to see how two cells 'having a handshake'. It is happening just in the middle.