And the story began with a meeting of fantastic 7 at the very beginning of Dublin Mountains Way in Tallaght at 6.30 am on September 25th. The spirit, cheer, backpacks with essentials and branded tops were on, Strava was launched and we swiftly headed off.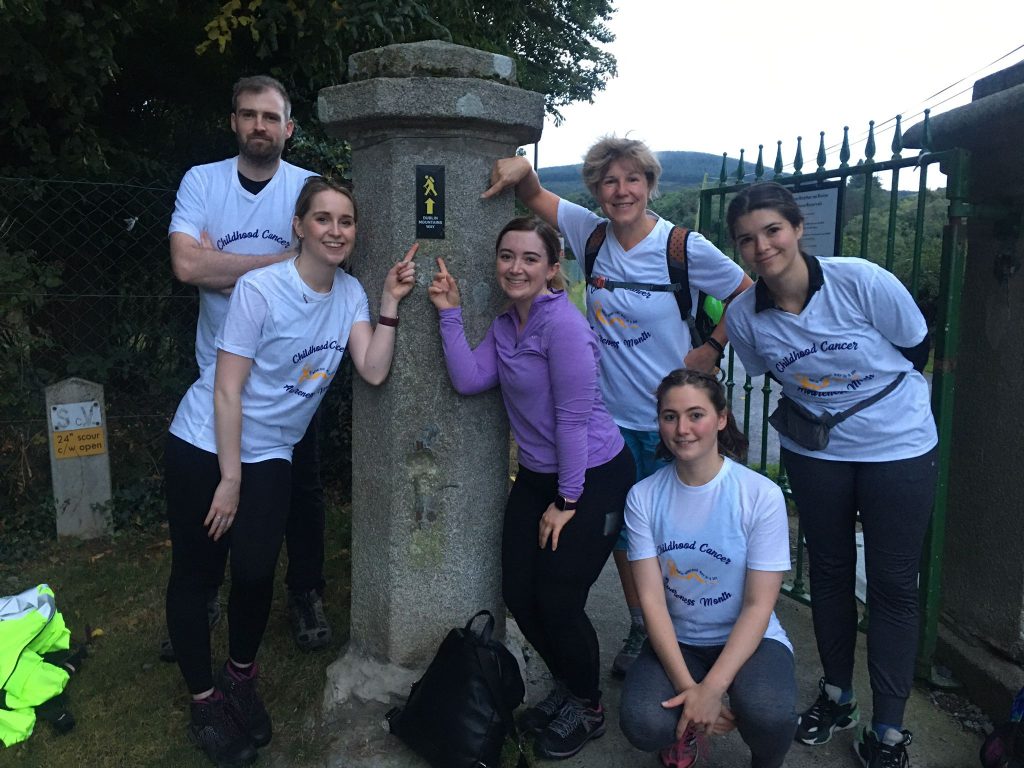 It was quiet, dark and cheering. No one was on the streets, a few cars passed by. We took towards Bohernabreena reservoir through the sleepy estates of Tallaght, sensing the sunset. Clouds were low and the highest peaks in the Dublin Mountains including Seefingan, Corrig and the highest, Kippure were in the mist. Nevertheless, we were full of energy and hopes to see it later.
Cheat chats and jokes were here and there, we walked in small dynamic groups recalling our pre-covid life and stories that happened during the lockdown. A mix of newbies and maturating research students. We met some in person for the first time since the COVID restrictions admitting that our visual senses are extremely important to memorise a person and recognise him/her on the next occasion. We were enjoying this face-to-face communication and our team re-connection.
The first 8 km flew in a flash. We stopped for our breakfast in Dublin Mountains. The grass was wet, the sky was blue. Mountains started to draw their shape through the clouds. Yoghurts, fruits, bars immediately disappeared in our stomachs. Everyone was happy to lighten their backpack. Every little helps!
A few plasters were glued, and we continued on at a very good pace. The sky was changing with sunny spells. We travelled around Spinkeen and Killakee at their base doing up and downhills and verifying our route with the hiking app. At the 20 km mark, we stopped for lunch. Sandwiches, grapes, mandarines and sweets were shared and eaten and then polished with chocolates from the recent Nadiya's home trip. Jellies left untouched.
At 25 km, our blisters reminded us of being humans. Our pace slowed down and we started a very mild ascent to Tibradden Mountain leaving the Pine Forest or Tibradden Wood behind. We climbed further to Fairy Castle, the highest point on the Dublin Mountains Way (537m). Throughout the entire way, Dublin showed its best views of the Phoenix Park and the Pope Cross, house roofs, Aviva Stadium, two Chimneys, Dublin Port… The scenery was fascinating and breathtaking. We saw Howth and Dun Laoghaire, Sugar Loaf… We met groups of Germans, French, Irish and many others.
At Three Rocks Mountain/Fairy Castle, we started our descent and entered Tiknock forest. This part was steep. We crossed the Gap Mountain Bike Adventure Park to reach Glencullen. Got lost at the end but just for a sec and reached the Glencullen junction at 2.30pm. It took us 8 hours with walks and stops from start to finish to complete the 30 km challenge in a day. We got tired but felt happy and satisfied.
We aimed to raise awareness of childhood cancer in general and neuroblastoma in particular as well as honour children with cancer, their parents, siblings, friends and careers, doctors and nurses, volunteers in the hospitals and researchers working to find cancer weaknesses and develop new treatments that are friendly to patients and target cancer aggressiveness.
We will count our tally in the coming days and transfer it to three wonderful charities that support childhood cancer research.
We thank everyone who supported this challenge!
Go raibh maith agat!