If you asked me after completion of my PhD, would I have ever thought of further education? I would have said – unlikely. Maybe short-term courses to advance my skills, but definitely no to a different field and a 2 years commitment.
Never say never. About four years ago, I started to feel uncomfortable with where I was – a piece of my life jigsaw was missing… I looked up different courses for further education in my field and for anything just relevant to my day job, like project management or teaching. I was even looking around for another job. But nothing…Nothing could be compared with my long life affair – science. This is the only thing that fuels me regardless the career or grant success trajectory.
Ten years after PhD I decided to do Masters in Science Communication, but part-time. The full-time job, family and research challenges did not leave me a choice. This was the same missing piece of the jigsaw. There were a lot to learn exploring another dimension – social sciences. All concepts and ideas of social sciences were studied through lenses of my current interests: cancer research, gender issues, science for public to name the least.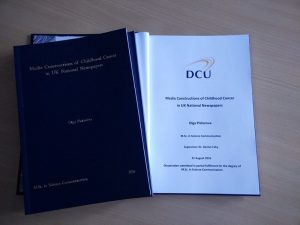 The experience was priceless. It is also inspired me to look outside the 'box', see research everywhere and communicate it, and last but not least to start my own blog.