SIOP is the International Society of Paediatric Oncology. It is a global multidisciplinary society representing doctors, nurses, other health care professionals, scientists and patients or their relatives. The Society's motto is 'no child should die of cancer'. The meeting 2017 is being held in Dublin, the city where I live and work.
Indeed, it was appealing to attend the key meeting in childhood oncology field. As any participant, I had an opportunity to submit an abstract about my research.  To no surprise at all, I received email notifying me on my work being selected for e-Poster presentation.  Common stuff. The email also said that it would be displayed at designated stations, like big screens throughout the meeting. Very unusual format, but we are living in the digital technology era; things are changing all the time. So, I would not need to stay by the poster this time. Great – more time for networking and talks.
Then I received another email informing about a Poster Discussion session, which I assumed to be a standard procedure when a group of selected piers stand by your poster and ask Qs. None comes in majority cases. A participant stands and waits and waits till the session is over. So, of course I took it easy.
A day before the meeting, I downloaded the meeting app and started to browse along the content and features. Out of curiosity, I checked details of the Poster Discussion session. This was the moment of mental breakdown – I discovered being selected for an oral poster presentation! My chances were 1 in 1475 (the number of submitted abstracts). I should probably also buy a lottery ticket tonight. Could lucky things come together?
I will reflect on the new e-poster presentation experience later today…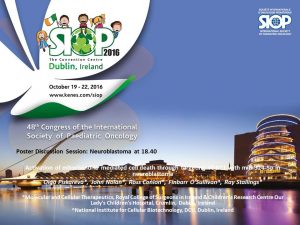 http://www.siop2016.kenes.com/