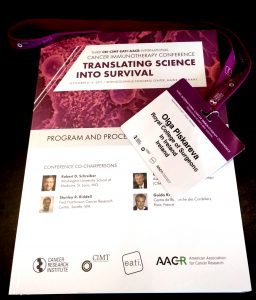 Today is the final day of the Third International Cancer lmmunotherapy Conference. The meeting was run at the Rheingoldhalle Congress Center in Mainz/Frankfurt, Germany from September 6-9, 2017. More than 500 people attended this meeting.
The focus of the scientific program was on "Translating Science into Survival". Talks covered the challenging areas in cancer immunology and immunotherapy. The full list of topics can be found in the meeting program.
At the moment cancer immunology and immunotherapy is a hot topic in the next generation of anti-cancer therapies. Lots of attention is given to checkpoint immunodrugs as it was proven by the prevalence of talks on this subject in the program. Indeed, this drug has great potential, but at the same time, it is not universal. About 50% of patients do not benefit from it.
What lessons have been learned from the talks:
Checkpoint immunotherapies are the main stream
Not all cancer patients would respond to immunodrug
Genetic landscape of a tumour and/or the patient may contribute to this, thus making beneficial to check genetics for this type of treatment
Immunodrugs work better in combination with conventional therapies such as chemotherapy.
The immune system can be tuned by a drug, but it will switch on compensatory mechanisms to balance the intervention.
Lots have to be studied further